If you are a globetrotter and have a deep attraction for nature and rainforests, Taman Negara National Park is the ideal destination for you. It is spread across the states of Kelantan, Terengganu, and Pahang and is the oldest known primary rainforest in the world.
About Taman Negara National Park
A dwelling space of more than 15,000 plant species, 675 bird species, 250 freshwater species, and so much more, terming it to be diverse is an understatement.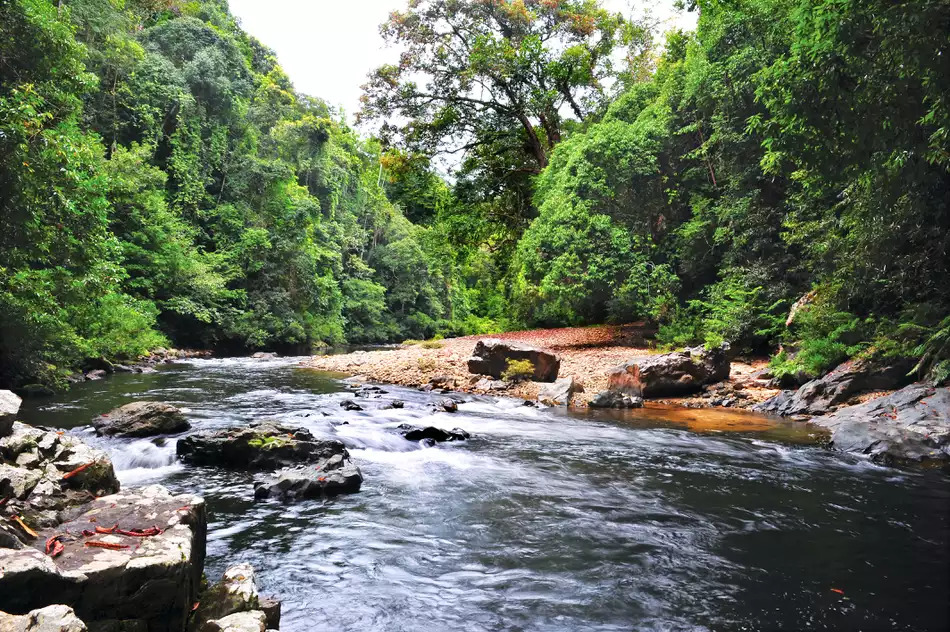 Not only is it the oldest, but it is also the largest in the whole of Malaysia; its wings spread to a mammoth 4343 square kilometres.
Visit it for its unmatched flora and fauna or to get the hang of the original inhabitants of Malaysia, the Orang Asli tribe. You get to walk on the longest canopy walkway, experience trekking under the rainforest canopy, fishing, camping, observing wildlife, and so much more.
In this article, we will pen down the top 10 things that you can do in Taman Negara National Park. Let's get started.
How old is Taman Negara rainforest?
The forest is said to be more than 130 million years old. It was first established as a rainforest in the year 1925 under the name 'Gunung Tahan Game Reserve'. It soon became the first-ever official national park in Malaysia and was renamed 'King George V National Park'. It was only after independence in 1957 that the park received its name that we address it today.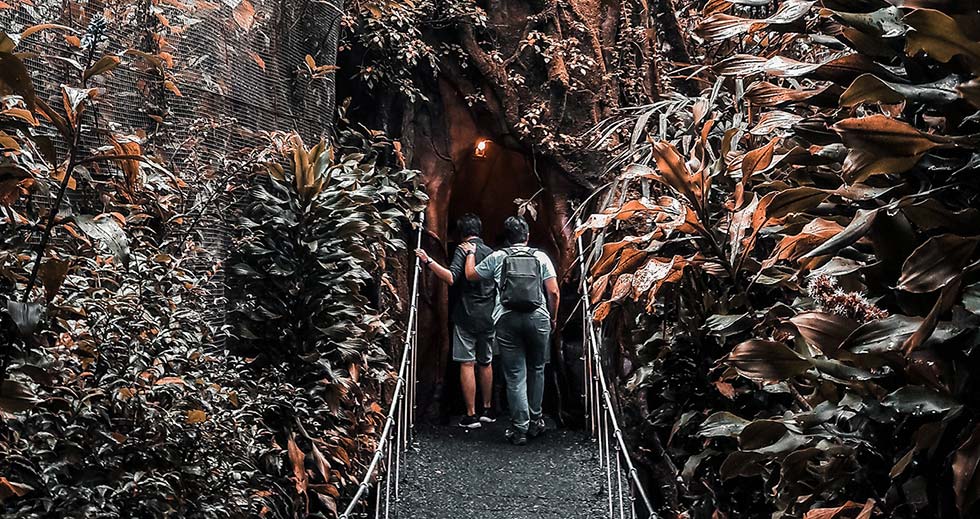 Getting there and around
There are four departure points where you can start your trip from Taman Negara, Kuala Lumpur, Sungai Relau, and Jerantut. To be practical, you cannot expect it to be a one-day trip. You can scale Mount Tahan if you want to take the Sungai Relau route or if you prefer the bus route, Jerantut is the one you should opt for.
How to go to Taman Negara from Kuala Lumpur?
If you are starting from Kuala Lumpur, head over to the Titiwangsa's Parkeliling Bus Terminal and take a bus to Jerantut, after that, take a bus to Kuala Tahan (the launch place for Taman Negara) from Jerantut Bus Terminal. If it is unavailable, take a bus to Kuala Tembeling port and then take a ferry to reach Kuala Tahan.
Park entry and fees
If you are going to the rainforest, it is safe to assume that you will need a parking space for the rented or the owned car. Following is the parking cost range that can be expected while you're here.
For those who reach Kuala Tahan, the parking costs range from RM5 (Malaysian Ringgit) for a car to RM10 for a bus.
After reaching Kuala Tahan, you will board a boat whose fare is RM1 to the opposite bank where the park entrance and Mutiara Resort resides.
After that, you will need a permit for entering the park which costs RM1 per person along with RM5 for camera and video-making.
Once you enter the park, there are several adventures that you can embark on, each of which has its charges ranging up to RM160 per person per activity.
Accommodation at Taman Negara National Park
If you haven't booked your dwelling place in advance, it might need a serious level of effort for you to find a shed for the night in Kuala Tahan. So make sure you pre-book before you head over to the rainforest.
On the brighter side, there is a lot of budget-friendly lodging that you can find for your comfort.
Needless to mention, there are several luxury resorts that you can book as well. For those looking for absolute luxury, you can choose the Mutiara Resorts, where they have various bungalows/chalet-style rooms or dormitory or camp.
If you are looking for some adventure or close-to-the-nature experience, you will find several nature-spotting hides. Make sure to pack your food, water and some bedding for yourself.
Top 10 things to do in Taman Negara National Park
Here are the top 10 things you must try at the Taman Negara National Park –
1. Canopy Walk
Initially built for research purposes, it surprisingly turned out to be the main attraction for both local and international tourists alike. You need to visit and see it once to understand the visual treat that it is and why it gains so much attraction.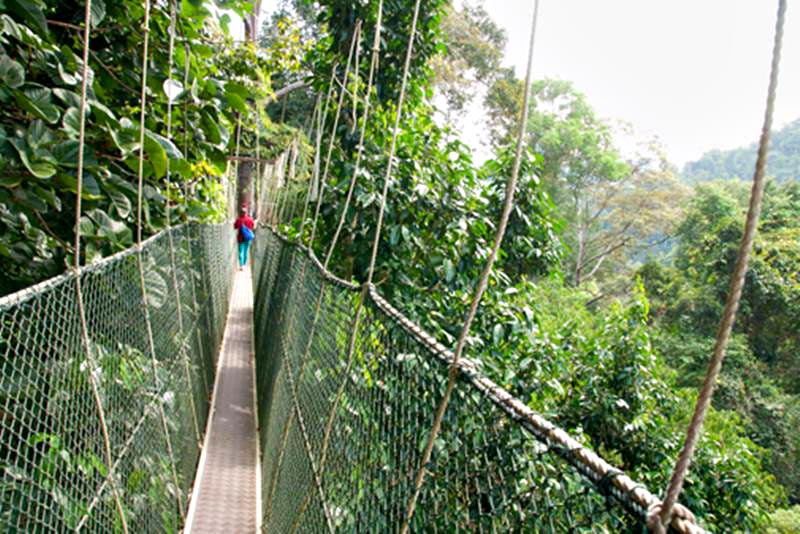 It is the world's longest canopy walkway, being 530 meters long and 40 meters above the ground level. The panoramic view from the canopy is breathtaking, and it almost feels like a dream. All said and done; you need to visit it once in a lifetime to cherish.
2. Climb Gunung Tahan
Gunung Tahan is the longest of the treks in Taman Negara, and the mountain is around 53 kilometres from the central park headquarters in Kuala Tahan (also known as Tenor Trail). The word 'Tahan' means to endure, and it is one hell of a challenging ride.
Another and the shorter route is 32 kilometres which start from Sungai Relau. Be careful and take the lead along as you may encounter leeches, torrential rains, monkeys, poisonous snakes, tigers, and what not!
3. Have a meal at Mutiara Restaurant
Even though it may sound a bit weird, big western-style breakfast at Mutiara Restaurant is a perfect starter for your journey to Taman Negara. The smorgasbord consists of salads, burgers, pizzas, and much more for you to feast along with beer and other local drinks.
There is also a special menu for the young trekkers, which presents equally delightful dishes for the kids.
4. Hiking to Bukit Teresek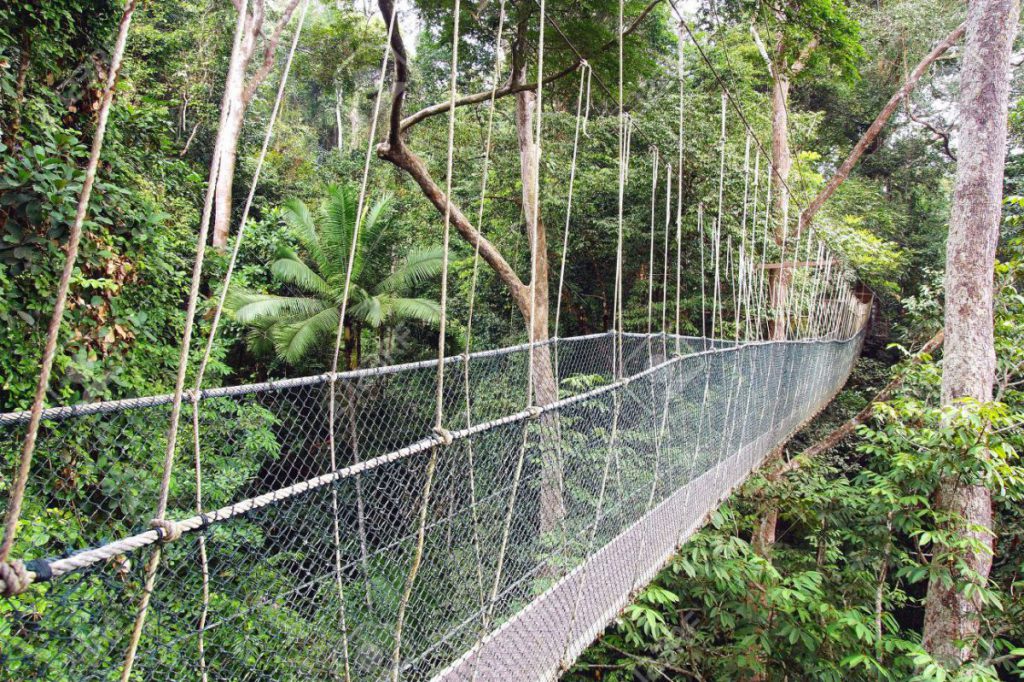 If you are a trekker, it is one of the best places to trek. There are several locations, and Bukit Teresek is a sight to behold. The duration of the hike is around 30 to 45 minutes with the peak height soaring to 334 meters. Get yourself buckled up and go in for a ride for approximately 1.7 kilometres and delve in flora and fauna to complete your visual ecstasy.
5. Visiting the Orang Asli tribe
Orang Asli or the Kampung Orang Asli are the original people of Malaysia. They consist of two groups, the Semokberis and the Bateks. You can talk to them to know their long enriched history and how their ancestors blew pipes to hunt and made the fire.
6. Shoot the Rapids
Get ready to go all wet while you enjoy your days. Rapid shooting is one of the many unforgettable experiences that you can embark on while being in the rainforest. You can start from either Kuala Tahan or Kuala Terengganu and go all the way to Sungai Tembeling which is the main tributary of the Pahang River.
Imagine sitting in a wooden boat with a plethora of thick trees all beholding your site on either side of the river! You certainly don't want to miss it.
7. Explore the caves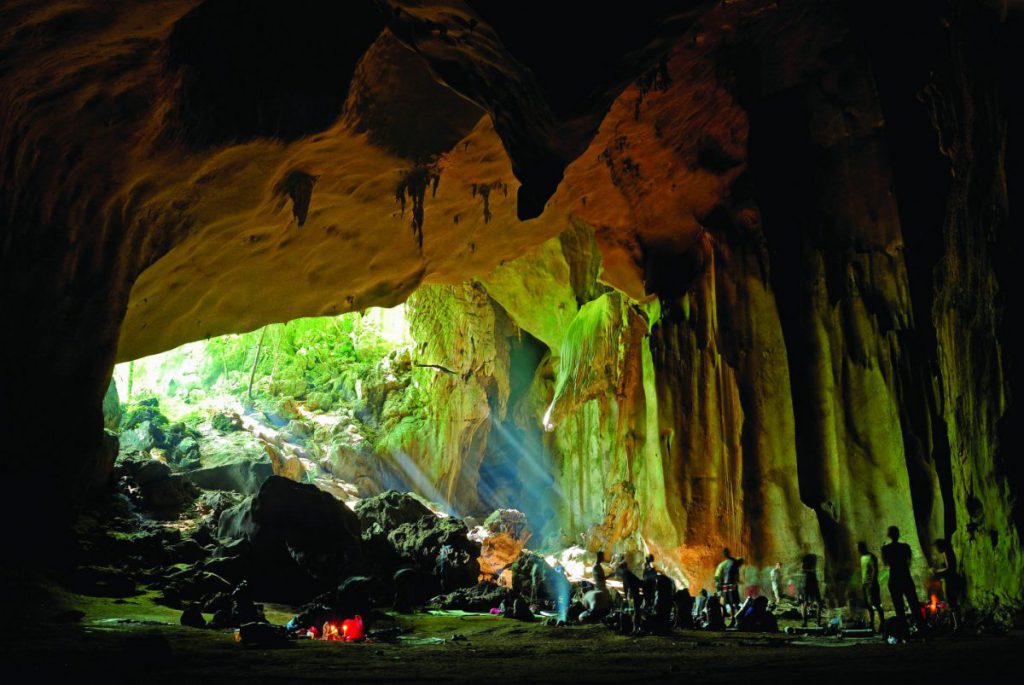 Taman Negara is a concoction of extravagant natural sites, and the caves form a part of it. One of the most popular ones is Gua Telinga which is 3 kilometres away from Wildlife Headquarters.
Crawl through an underground tunnel which is home to various amphibians, bats, and all the insects inside. If you are looking for more caving opportunities, you can go for Gua Kepayang Kecil and Kepayang Besar.
8. Watching the birds
Home to more than 675 bird species, It is undoubtedly the best place to bird watch in Peninsular Malaysia. While hovering through the forest, you can get a glimpse of the Rhinoceros Hornbill, Asian Fairy Bluebird, and the Yellow-vented Flowerpecker, and many other rare species.
9. Walk the jungles in the night
There is no better sight than a night walking safari around a forest, and you can experience it as well in the Taman Negara National Park. Dive into the wilderness while listening to various animals making their presence felt.
The guide will take you to the hiding spots where you can spot animals like deer, wild boars, tapirs, and many more. Experience them living through their day-to-day life as close as possible.
10. Feed the fishes at Kelah Sanctuary
If you are planning to grab a view of Lake Berkoh, make sure to halt at the Kelah Sanctuary. It is located at Lubuk Tenor on the Sungai Tahan river and homes the kelah fish, The Red Mahseer. Make sure to grab a handful of pellets and feed the fishes to bring them closer to you, so you get to enjoy the scintillating view that they encase.
To avoid disappointment, travelers are advised to book in advance for activities alone or packages that has include some of the above top 10 things to do
Wrapping up
Words cannot explain what you can experience from the time you land on the Taman Negara and to the point you leave it. It is a visual treat presented with such grace that you feel that you are witnessing heaven.